*&nbsp&nbsp&nbsp&nbsp&nbsp&nbsp&nbsp&nbsp&nbsp&nbsp&nbsp&nbsp&nbsp&nbsp&nbsp&nbsp&nbsp&nbsp&nbsp&nbsp&nbsp&nbsp&nbsp&nbsp&nbsp&nbsp&nbsp&nbsp&nbsp&nbsp&nbsp&nbsp&nbsp&nbsp&nbsp&nbsp&nbsp&nbsp&nbsp&nbsp&nbsp&nbsp&nbsp&nbsp&nbsp&nbsp&nbsp&nbsp&nbsp&nbsp*

........ It was the middle of 1995 when I first decided to learn guitar. My grandfather had two very old guitars which were owned by his parents, but both instruments were not playable anymore because of many problems resulting from bad packaging and weather.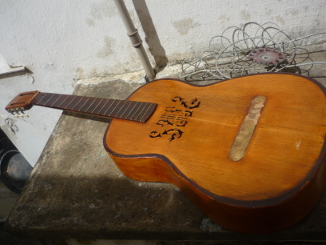 ........ At that point, my dream was to play electric guitar in a rock band, but there was no instrument for me to start with. My grandfather gifted me my first acoustic guitar – a cheap one that I cherished like a part of my body for many months. I used to go to school with my guitar so that at any moment I could start playing it no matter where I was.
........ My desire for an electric guitar was still present in my mind however, and I remember watching a documentary about U2 where they mentioned stories about their start. One of these stories was about a guitar built by The Edge with his brother when they were young. With this story in mind, I asked my grandfather to help me to build one.
........ We started to search for wood in the backyard of the house and started the project without any idea on how to properly proceed. We used the measurements from one of his old acoustic guitars and worked on that for no more than two months. Of course, we didn't have the slightest clue about many things – especially the use of a truss rod inside the neck – so, inevitably, the neck became a bow after some weeks of use and the guitar wasn't playable anymore.
........ The guitar had a form of an ES-335, but it was a solid and very heavy guitar. The pickguard was somewhat similar to the ones used in Rickenbacker guitars, so it was easier to hide the electronics. The bridge was made of wood, and, in order to hide it, we made a "protection" which was something resembling a vibrola. I used a piece of an antenna to imitate a kind of whammy bar, but it never worked properly. The frets were made out of pieces removed from my grandmother's curtain fastener and the pickguard was made from a drawer plate piece. So, the guitar was red with a black painted scale.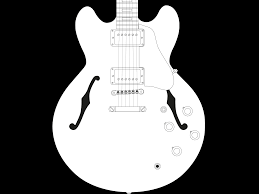 ........ After many months, my mother was already saving money to buy me an electric guitar as my project was not successful (as expected). So finally, I got my first electric guitar: A red Korean Squier Stratocaster (HSS). Soon I had a band, and we first played in concert in late 1996 presenting original songs (but by my standards, they were not really "original").
........ From time to time though, my musical interests changed. First, I decided to learn piano in order to teach someone to become a keyboard player for my band, but when I started to discover the music of many classical music composers, my tastes changed a lot and being in a rock band didn't sound very interesting to me anymore. During those times I acquired more instruments, and from time to time some were sold, and some are still with me. But at some point, I couldn't see myself doing other things besides playing piano and composing. Thus, I left my interest in guitar behind.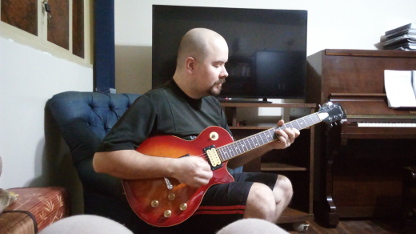 ........ It was only in the middle of the first year of the COVID-19 pandemic, in addition to many personal problems I faced in 2018, that I "started to stop" and thought about the way I went about my life – as many of you were probably also "forced" to do by such a difficult situation, I'm sure. On one of those days, I remembered my grandfather at one point mentioning that someone promised to give him a cavaquinho, a typical Brazilian instrument similar to the famous ukulele. My grandfather passed away in 2007 and never got the cavaquinho that was promised to him, so in his memory, I decided to use the "free time we were forced to deal with" during the pandemic to build a cavaquinho. It is a small instrument, so I imagined it would be possible to achieve this with patience and some research.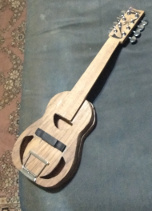 ........Since then, I decided to build more instruments – first and foremost, a Rickenbacker-like model because I always loved that type of design. After a while, I realized that I really enjoyed building guitars, so I offered to build models for three friends who play wonderfully. I asked them to choose any model, and thus started a Music Man's "Majesty", a "Les Paul" and a "Flying V".
........ It is difficult for me to keep doing only one single thing, so I started to make some models of my own design.




Artur Cimirro
31/3/2022

*&nbsp&nbsp&nbsp&nbsp&nbsp&nbsp&nbsp&nbsp&nbsp&nbsp&nbsp&nbsp&nbsp&nbsp&nbsp&nbsp&nbsp&nbsp&nbsp&nbsp&nbsp&nbsp&nbsp&nbsp&nbsp&nbsp&nbsp&nbsp&nbsp&nbsp&nbsp&nbsp&nbsp&nbsp&nbsp&nbsp&nbsp&nbsp&nbsp&nbsp&nbsp&nbsp&nbsp&nbsp&nbsp&nbsp&nbsp&nbsp&nbsp&nbsp*