*&nbsp&nbsp&nbsp&nbsp&nbsp&nbsp&nbsp&nbsp&nbsp&nbsp&nbsp&nbsp&nbsp&nbsp&nbsp&nbsp&nbsp&nbsp&nbsp&nbsp&nbsp&nbsp&nbsp&nbsp&nbsp&nbsp&nbsp&nbsp&nbsp&nbsp&nbsp&nbsp&nbsp&nbsp&nbsp&nbsp&nbsp&nbsp&nbsp&nbsp&nbsp&nbsp&nbsp&nbsp&nbsp&nbsp&nbsp&nbsp&nbsp&nbsp*

........"RICKENBACKER"
A big guitar in Rickenbacker style
I remember first seeing a photo of a Rickenbacker guitar inside the booklet of a Roxette album called "Crash Boom Bang" in the early 90's. Since then, I always loved the designs of these guitars – and owning an original guitar like this was always impossible according to my available po$$ibilities. I started building this in September 2020.




........"MAJESTY"
The Music Man "Majesty" (John Petrucci)
The Music Man "Majesty" (John Petrucci) I was already in the process of building my Rickenbacker when I decided to build another guitar for a great friend, Felipe Campos, so I figured this would be an ideal opportunity to gain more experience and learn more about lutherie. I asked him what his favorite model was, but I must say, I definitely expected it to be THIS model, since he is a fan of Dream Theater. When I started to study it and noticed the difficulties around its building, I decided to make two at the same time, because if something went wrong, I'd have a chance to try again. And if not, I'd have a copy for myself! Well, there were some things that went wrong here and there, but to make a long story short, both models survived the corrections and are well and healthy now. ;-)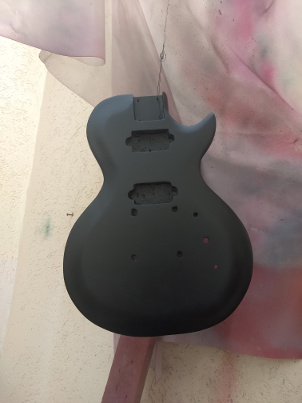 ........"LES PAUL"
A baritone Les Paul
Another gift I offered to a great friend I've known since childhood, Diego Monte Blanco. He is a great guitar player and asked me for a baritone model. A curious story behind it: Being without a guitar for a while, he used one of my Les Paul guitars in the first live concert he played many years ago. This is why the Les Paul model is displayed here.




........"FLYING V"
Inspired by the Randy Rhoads model and the BC Rich style of Headstock
I offered this to a great friend who was also a music theory student of mine, Bruno Portela, who is a great guitarist as well. His main work today is teaching philosophy in schools, and he mentioned being inspired by me as I always loved to read philosophy and I spoke a lot about it. Now he is a Doctor in Philosophy... Well, nobody is perfect. I really hope he knows a little bit more than Socrates knew in his days!!!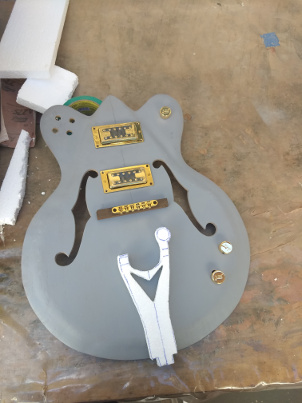 ........"GOLDEN FALCON"
Another guitar I'm building for my own collection.
It has a semi-hollow body inspired by the famous Gretsch "White Falcon" double cut. This one is planned to have a golden color and the old style "mufflers" installed. As you can see, I will probably make the Bigsby tremolo myself because the original model is really too expensive!




........AN ACOUSTIC GUITAR TO FIX
I found this "destroyed" acoustic guitar some time ago.
Now that I'm fixing its problems, hopefully in the near future it will sound as beautiful as its original builder intended. No trace of a label was found inside this model.




........LES PAUL "CUSTOMIZED"
This guitar had some problems that needed fixing, and I decided to change it a little bit.
The two(!) pickguards, the knobs, pickup selector, the bridge, and the humbucker pickups were added by me.




........BLACK SG "CUSTOMIZED"
This was my first experience with automotive painting.
I changed the color to green and added the "vibrola" bridge along with the knobs.
*&nbsp&nbsp&nbsp&nbsp&nbsp&nbsp&nbsp&nbsp&nbsp&nbsp&nbsp&nbsp&nbsp&nbsp&nbsp&nbsp&nbsp&nbsp&nbsp&nbsp&nbsp&nbsp&nbsp&nbsp&nbsp&nbsp&nbsp&nbsp&nbsp&nbsp&nbsp&nbsp&nbsp&nbsp&nbsp&nbsp&nbsp&nbsp&nbsp&nbsp&nbsp&nbsp&nbsp&nbsp&nbsp&nbsp&nbsp&nbsp&nbsp&nbsp*